Double-layer manhole cover device; including a well wall, a cover seat installed on the upper part of the well wall, and a ring-shaped filling between the well wall and the cover seat; An outer cover is provided on the top of the cover seat; at least an upper part of the convex edge is provided
Two positioning grooves; the inner plate is a basin-like structure, the side wall has several holes, and the top has a cross-shaped frame rib; the top of the outer cover is provided with a plurality of holes, and the top of the outer cover is provided with There are several holes, and the inner surface is provided with several concentric stiffening rings. Preferably, positioning ribs suitable for positioning the vertical grooves are installed on the outer peripheral surface of the outer rib plate ring.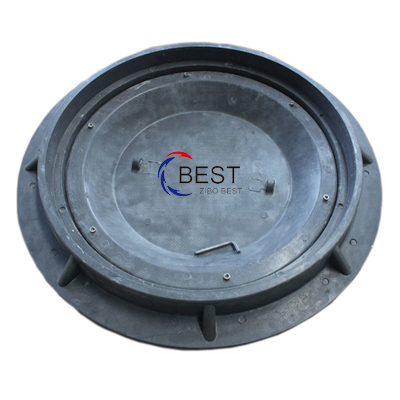 The utility model has the ability to effectively prevent the
manhole cover
from being damaged or lost, and maintains a clean and dry environment inside the manhole after opening the manhole. In order to facilitate personnel to enter the workover construction; for drainage manhole covers,
Function to make rainwater pass smoothly and reduce sludge and debris entry.