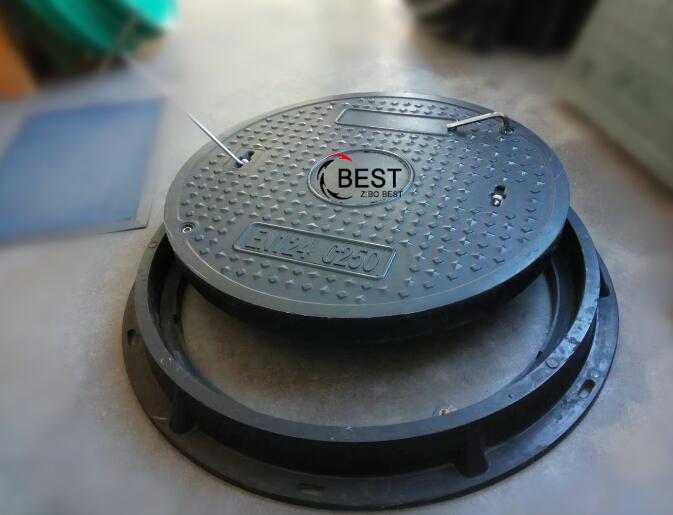 The
resin manhole cover
has a unique locking security system and opening system design, which can effectively ensure the safety of the road surface and prevent theft of the facilities in the well:
1. Prevent the loss of property in the well 2. Prevent the displacement and overturn of the manhole cover to form a hidden safety hazard 3. Prevent the well water from being flooded and cause urban flooding. Form urban black holes.
Advantages of resin manhole cover
High standards: Strictly implement the national standard of the People's Republic of China "GB / T23858-2009 inspection manhole cover" and the European standard EN124: 1994 "Standard for launching covers and manhole covers for vehicle and pedestrian areas.
Lightweight: Only about one third of cast iron, which is much lower than the weight of the cement manhole cover under the same load, which is easy to transport and install and greatly reduces labor intensity.
High strength: The BMC composite manhole cover produced by BMC group molding compound with reinforced skeleton is produced at high temperature and high pressure. The maximum test load reaches F400KN; the high-strength SMC composite manhole cover produced by HZ-SMC sheet molding compound reaches the highest test load F900KN
Appearance: The pattern design on the surface of the inspection well cover is exquisite. It can be customized according to user requirements and made into various colors to beautify the urban environment.
Anti-theft property: This synthetic material has no recycling value and is naturally anti-theft. It also has a locking structure to prevent theft of property in the well.
Weather resistance: The product uses high molecular weight and chemically stable polymer materials as raw materials. Through scientific formula, advanced technology, and perfect technical equipment, the product can be used normally at -50 ° C --- + 150 ° C. .
High accuracy: As the product is molded by high temperature molding, the gap between the cover and seat is small, which overcomes the disadvantages of "running, jumping, ringing" of cast iron and cement manhole covers, and improves road traffic capacity and driving comfort.
Corrosion resistance: The product has been tested by the National Chemical Building Materials Testing Center. It has corrosion resistance, acid and alkali resistance, anti-aging index of more than three levels, and long service life.
Good after-sales service: strictly enforce the warranty policy of the product under the premise of non-human damage and correct use.
As a socially responsible company, Zibo Best Energy-saving Materials Co., Ltd. has a corporate value of integrity, dedication, innovation and win-win. With professional products, honest service, and a high sense of responsibility, we are dedicated to producing each set according to industry standards. Manhole covers, we are not just producing manhole covers, we are also the guardians of road safety!