Dimension: 1000x1000mm
Material: composite materials
Application: tree construction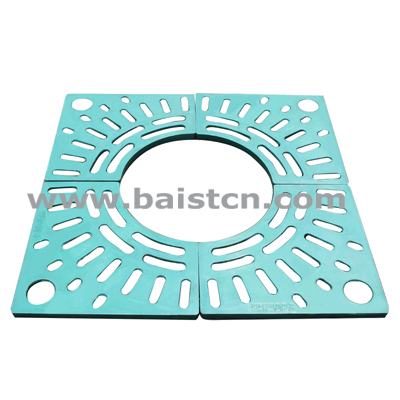 Tree grates cover the root of a tree and the surrounding soil but instead of fencing off that area, they provide a surface that people can walk on while allowing rainwater to run down to the soil beneath.
Our tree gratings can suit all trees in different locations and can be cropped .
FRP tree protection function:
Chemical resistance
The FRP tree is made of excellent benzene, meta-benzene, which has excellent corrosion resistance.
2, lightweight
The FRP cover is made of resin and fiberglass. It has a density of only a quarter of iron and two-thirds of aluminum, but its relative strength is higher than these metals.
3, anti-UV
The FRP tree protector is formulated with an anti-UV agent and a polyester surface felt for better UV resistance.
4, can be designed
The FRP tree is flexible. The FRP tree can be cut according to the application.
FRP tree board standard specifications 1.22x2.44 1.22 * 3.66 1x3.01 1x4.04 meters additional specifications can be customized. Thickness: 25mm 30mm 38mm, 50mm.
Hot Tags: frp resin composite tench covers bangladesh, China, manufacturers,suppliers, company, high-quality