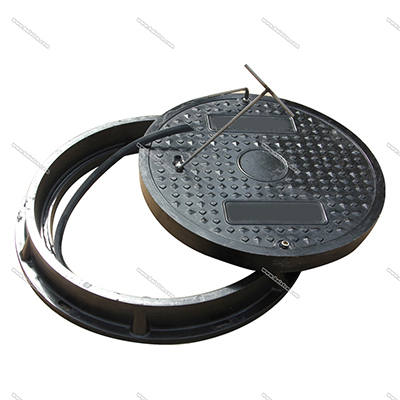 Origin and acceptance standard of SMC manhole cover:
The oridin of SMC manhole cover: (sheet molding compound) and BMC (bulk molding compound) are nasically the same in raw materials. Both of them are molded plastics made from resin, glass fiber, filler and other raw materials in advance, and then molded or injection molded products. These two manudacturing processes originated in Germany in the 1960s, and
developed into the main methods of large-scale and mechanized production of thermosetting FRP products in the United States, Western Europe and Japan. The output of SMC and BMC products in developed countries has accounted for about 30% of the output of thermosetting FRP.
The main products are auto parts, satellite antenna reflector, construction ceiling, door, insulator, terminal block, meter box, circuit breaker shell, meter case, sound equipment shell, water tank, Bathware, tables and chairs, low-voltage electrical appliances, highway anti glare board, biogas pool shell, etc. China's SMC molding materials have been exported to Taiwan, vietnam and Europe; molded products have been exported to Japan, Framce and Germany.
Acceptance standard of SMC manhole cover;
1. Manhole cover appearance (inspection standard)
The outer surface shall be smooth and clean without bubbles, impurities, uneven color, etc. The manhole cover shall be flat, the concave convex pattern and identification shall be clear and obvious, and the color shall be black gray.
2. Deviation of manhole cover diameter and wall thickness (inspection standard)
3. Main physical and mechanical properties
4. Application requirements: waterproof, shockproof, anti jumping and ultraviolet aging, wear resistance, high temperature resistance, service temperature range - 20 ℃ / 60 ℃, service life more than 30 years, universality of new and old manhole covers, retention of inner manhole covers, etc.
5. Relevant test standards:
GB / T 1463-88 test method for density and relative density of fiber reinforced plastics
GB / T 1449-83 test method for flexural properties of glass fiber reinforced plastics
GB / T 1450.2-83 test method for punching shear strength of glass fiber reinforced plastics
GB / T 3854-83 test method for hardness of fiber reinforced plastics (bacol)
GB / T 3857-87 test methods for chemical properties of glass fiber reinforced thermosetting plastics
GB / T 9979-88 test criteria for high and low temperature mechanical properties of fiber reinforced plastics
GB / T 16422.2-1999 test method for exposure of plastics to laboratory light source
CJ / T 3012-93 cast iron manhole cover