Manhole cover belong to heavy cargo.
As usually, its used in various kinds of area. Construction project, sewage, sanitary project, park, hotel and sea side infrastructure etc.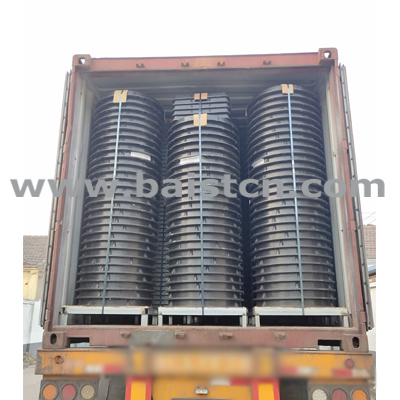 Anti-theft: material has no recycling value and natural anti-theft. Even if there are steel reinforcement inside.
Noise reduction: with lock device, when vehicle pass, there is no slippage, no harsh noise and anti-interference phenomenon. The cover and the base are tightly fastened, which avoid the "jump, slap, ringing of the manhole cover when passing the car.
sealing performance: no vent manhole cover can prevent garbage entering the cover, but also prevent children from throwing dangerous materials such as firecrackers inside. with sealing strip can prevent rainwater leakage.
Design ability: The composite manhole cover can be customized according to the clients require, including color, plate, logo etc.
bearing performance: according to the national standard can be divided into A15, B125, C250, D400, E600, F900 load level.
Like round 600A15: 20feet container 984sets
Zibo Best Energy-saving Materials Co., Ltd. was established in 2004, which is one of the largest
composite manhole cover
manufacturer in China, specializing in producing and supplying composite materials(SMC/BMC) manhole cover, rain-grating ,tree-grating, flower pot, fence and so on. Our products are strictly produced according to the BS EN124 and have obtained various kinds of certificates. Till now, our competitive products not only have good market in domestic, but also owned a large overseas market with a high reputation.