We are a national standard SMC manhole cover manufacturer, is committed to the development, production, manufacturing and sales of new building materials products of production-oriented enterprises, since the establishment of the company in 2004, the company has focused on and engaged in manhole covers, tree pool covers, trench covers, cable trench covers, rainwater grates, anti-theft manhole covers, BMC resin manhole covers, polymer manhole covers, glass fiber reinforced plastic manhole covers, SMC resin manhole covers, lawn manhole covers, etc, Cable support, all kinds of manhole covers, cover plates, grates, tree guards, as well as all kinds of special composite materials customized manhole covers, cover plates, supports and resin grid plates, the company has a perfect business and service mode, and the product transportation mode is land transportation; road transportation, no matter where you are, the resin manhole cover can be delivered completely. Zibo best energy-saving materials adhere to the principle of load-bearing reputation, heavy reputation, is the Zibo City resin manhole cover supplier, also because of this, we from the early quality to the present quality and quantification.
Today we introduce a square manhole cover, size: 1000X1000mm
Load: B125
Overload: 25t
Material: SMC high score composite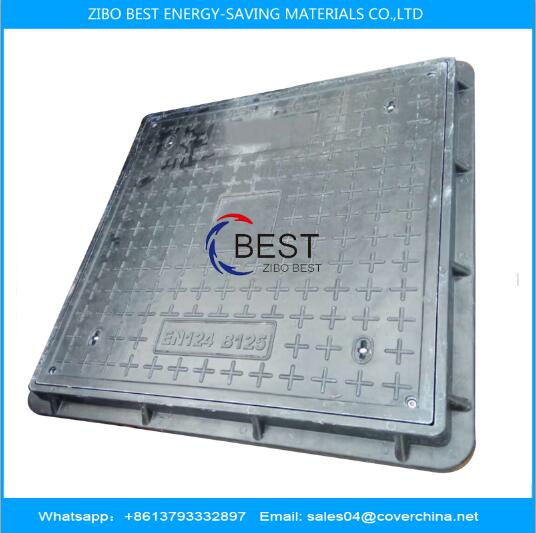 Features: Light: it is only about one third of cast iron, which is much lower than the weight of cement manhole cover with the same load. It is easy to transport and install, and greatly reduces the labor intensity.
Appearance: the surface pattern design of the manhole cover is exquisite. It can be personalized designed according to the user's requirements and made into various colors to beautify the urban environment.
Anti theft: the synthetic material has no recycling value and is naturally anti-theft; and has a locking structure to realize the security of property in the well.
Weather resistance: polymer materials with high molecular weight and strong chemical stability are selected as raw materials. Through scientific formula, process and perfect technical equipment, the product can be used normally at - 50 ° C - + 150 ° C.
High precision: because the product is molded by high temperature molding, the gap between the cover seat is small, which overcomes the disadvantages of cast iron and cement manhole covers such as "running, jumping and ringing", and improves the road traffic capacity and driving comfort.
Corrosion resistance: the products are tested by the national chemical building materials testing center, and have the ability of corrosion resistance, acid and alkali resistance. The anti-aging index reaches more than three grade, and the service life is longer.
Zibo best energy-saving materials Co., Ltd. focuses on the R & D and production of high-tech environmental protection new material products. Based on the purpose of "serving the society with science and technology", Zibo best energy-saving materials Co., Ltd. is committed to the social goal and responsibility of "eliminating urban traps" and "creating a beautiful home together" as the enterprise's pursuit, making a contribution to "promoting urban civilization".