Why should gas stations choose manhole covers with insulation resin? Let's share with you the characteristics of insulating resin manhole covers for gas stations:
Anti theft: FRP products have no waste recycling value, and can be used as manhole covers to avoid the hidden danger of steel manhole covers being stolen and sold as waste products, so as to prevent traffic accidents caused by theft of manhole covers, which may cause people, vehicles falling into or stuck in the wells, and reduce the economic losses and accident liability of the owners.
Corrosion resistance: the characteristics of the composite gas station manhole cover endow the underground airtight waterproof well system with high corrosion resistance. It can be used for a long time even in different acid, alkali, salt, oil and gas corrosion environment, and is suitable for the actual service environment of gas station.
Anti static: it has the function of anti-static, which eliminates the potential risk of electric spark caused by static friction in gas filling station.
Waterproof: the sealing sleeve at the entrance of composite manhole cover can achieve the sealing and waterproof effect of the whole system. It can withstand long-term immersion of pressure water, prevent water and debris from entering the well, effectively protect the special equipment of oil and gas stations such as oil pumps and valves, and prevent oil and gas leakage and oil seeping into the surrounding soil, so as to solve the problem of manhole inspection well and handhole well of oil tank in gas filling station in rainy season The potential risk of being soaked in rain water.
The insulating resin manhole cover of gas station has the advantages of high strength, good toughness, corrosion resistance, no static electricity, no spark and long service life. The resin manhole cover of gas station solves the shortcomings of iron
manhole cover
of cast iron which is easy to rust and steal, too bulky and easy to crack. It is a new type of well cover developed to improve its use function, economic and social benefits.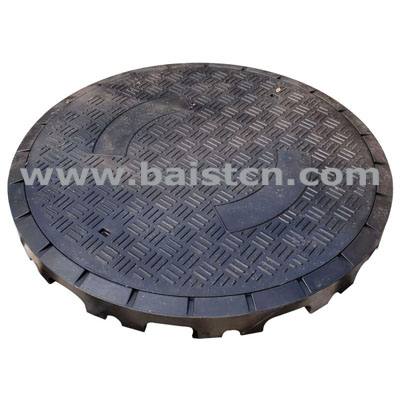 Zibo bester energy saving materials Co., Ltd. was founded in 2004. Its main products are cable cover, trench cover, tree pool cover, trench cover, composite material manhole cover, etc. the company integrates product development, production, sales and service. The technical research and development team is composed of experts and engineers in the industry, with an annual production capacity of more than 2 million sets. Through long-term market promotion and customer use, the company has won the trust of customers for its excellent quality, excellent performance and high-quality after-sales service.