Why is the manhole cover round? Is nodular cast iron manhole cover expensive? What are the characteristics of well cover design? People often see a lot of manhole covers on the street. No matter they are used for drainage or other purposes, they are all round, and there is a certain emphasis on the design, not random. People rarely think about why the manhole covers are round, because they have been regarded as habits. Next, I will introduce you one by one.
1、 Why the manhole cover is round: vehicles and pedestrians pass by at any time on the manhole cover. The use of the round manhole cover mainly considers that the length of each diameter of the round manhole cover passing through its center is the same, so if the manhole cover is rolled up by passing vehicles, because no matter how it is rolled up, its diameter will be slightly wider than the hole below, and the manhole cover will not fall into the wellhead. The use of the wellhead depends on the size of the wellhead. If it is necessary to use a square well cover with an area far larger than the wellhead, the utilization and practical value of the materials are naturally not more effective than using a round well cover directly, which not only saves the material of the well cover, but also ensures the safety of the wellhead.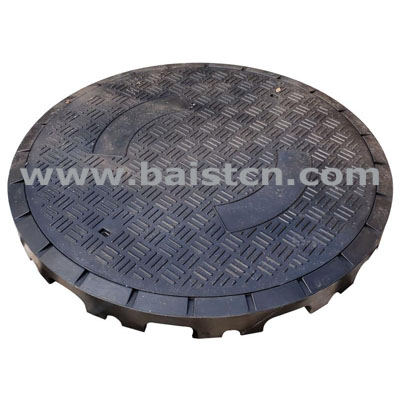 2、 Price of nodular cast iron manhole cover: nodular cast iron manhole cover is one of the products of nodular cast iron. Nodular graphite is obtained by nodularization and inoculation treatment, which effectively improves the mechanical properties, plasticity and toughness of cast iron, thus obtaining high strength. Nodular manhole covers are mainly used in municipal roads, highways, communications, power, water, communities, schools and other parks. Its price range is generally around 4800 yuan per ton. Of course, the specific price should be determined by consulting the relevant departments and the current market price.
3、 Well cover design: the manhole cover is generally designed as round and square, and the common design is round, which can save materials and better facilitate the vehicles and people's walking. In the design materials, wear-resistant and compression resistant materials are used, which can withstand high temperature and cold. Now, the manhole cover design is more environmentally friendly and beautiful, and fully achieve energy saving.
The above is the knowledge and interpretation about why the
SMC compound manhole cover
is round, the price of ductile iron manhole cover and the design of manhole cover. I believe that you have a new understanding of the manhole cover after reading the article and know how much the role of manhole cover is.
With the development of modernization, the level of science and technology is getting higher and higher. Many products also have a refined division. Many products are more and more targeted and specialized in use.