Product features:
1. Corrosion resistance
It has excellent corrosion resistance to acid and alkali. When purchasing, consumers can choose to use 0-benzene, m-benzene or vinyl resin as matrix materials economically according to the requirements of the actural use situation.
2. Light weight, high strength, easy to cut and install.
3. Aging resistance
Theoretically, its service life is more than 50 years.
4. Flame retardant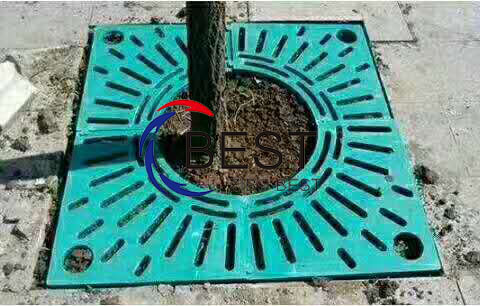 5. Security
It has excellent electrical insulation, no breakdown under 10KV voltage, no electromagnetism, and can be used in magnetic sensitive equipment; the special structure of FRP grid also has the characteristics of anti-skid and anti fatigue.
6. Uniform color inside and outside
The color can be chosen at will. The color can be customized according to the customer's requirements, so as to improve the environment of the production site.
7. With better comprehensive economic benefits
8. Strong designability
Dimension: with flexible design.
Zibo Best Energy-Saving Materials Co., Ltd. is a professional manufacturer of composite
tree grating
. Since its establishment in 2004, the company has strictly implemented the production standards in accordance with the national standard (European standard). The products such as tree grating, rainwater grate, cable cover, tree grating, composite resin manhole cover, U-type drainage ditch and trench cover plate are not only popular in China, but also occupy a place in Europe, South America, Africa, Middle East, Asia, Russia and other countries and regions. It is the representative of national standard brand in the industry.