Zibo best energy saving material Co., Ltd. is a well-known production-oriented enterprise specializing in the production and sales of anti-theft composite manhole covers. Since its establishment 2004, the company has always adhered to the business philosophy of "integrity, pragmatism and innovation". The supplied composite manhole covers have been constantly innovating and innovating. With perfect planning and design, high-quality engineering quality and perfect after-sales service.
Types of cover:
1. According to the distribution scope: A. underground pipeline manhole cover of urban public road traffic facilities; B. underground pipeline manhole cover of units and residential quarters.
2. According to the ownership: a. the property rights belong to all professional pipeline companies; B. the property rights belong to users.
3. According to the type of pipeline: rainwater, sewage, water supply, gas, hot gas, power supply, communication, cable TV, traffic signal line, etc., this type of well cover is mostly set in the underground pipeline type of road engineering.
4. According to the bearing capacity: A. heavy manhole cover: municipal road traffic and heavy vehicle use; B. light duty manhole cover: public road traffic and light vehicle use.
5. According to the material: A. metal manhole cover: cast iron, ductile iron, cement
manhole cover
, etc.; B. high strength steel fiber cement concrete manhole cover (cement-based composite material): according to the bearing capacity, it can be divided into six load grades: A, B, C, D, E, F.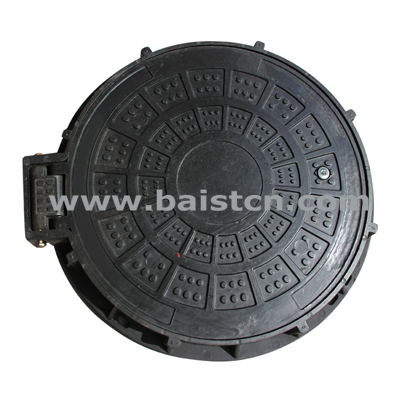 Product features:
(1) High strength
(2) Appearance beauty: the surface of manhole cover is exquisitely designed and can be made into various colors to beautify the urban environment.
(3) Light weight: the weight of the product is only about one third of that of cast iron, which is convenient for transportation, installation and rush repair, and greatly reduces the labor intensity.
(4) Anti theft: the synthetic material has no recycling value and is naturally anti-theft; and it has a locking structure to realize the anti-theft of property in the well. It can eliminate the occurrence of "urban black hole" accidents.
(5) Strong weather resistance: the product uses high molecular weight and chemical stability; high molecular weight materials with strong properties as raw materials. Through scientific formula, advanced technology and perfect technical equipment, the product can be used normally at - 50 ℃ - + 150 ℃.
(6) High precision: because the product is molded by high-temperature molding, the gap between cover and seat is small, which overcomes the problems of "running, jumping and ringing" of cast iron and cement well cover, and improves the road traffic capacity and driving comfort.
(7) Corrosion resistance. The products are tested by the national chemical building materials testing center, and have obvious acid and alkali resistance and corrosion resistance. The anti-aging index reaches over three and has a long service life. The products have been used in a large number of municipal construction nationwide, and are well received by users and experts.