1. The plastic drainage ditch has the advantages of light weight, easy installation and strong bearing capacity;
2. Smooth surface, good drainage performance and low water absorption permeability;
3. Fast installation and low installation cost;
4. long service life: anti aging, good stability, frost resistance and strong chemical resistance.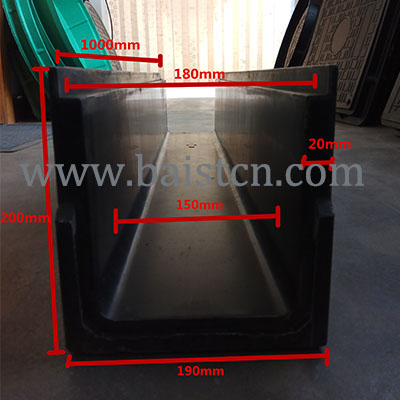 U-type drainage ditch is a linear drainage modular system, which has many types, a wide range of cover plates and sizes. It has various functions and can meet different needs of various users. The product is made of new building materials with energy saving and environmental protection as raw materials, and resin is used instead of cement in traditional concrete. It has the characteristics of high compression and bending resistance, frost resistance, non corrosion, non weathering, convenient installation, easy maintenance, integrated molding, beautiful appearance, etc. Equipped with ductile iron cover plate, it is suitable for g36 to e25 load levels specified in national standard jx125.
Plastic drainage ditch is suitable for parking lot, railway station platform, building surface, pedestrian area, landscape structure, industrial site, etc.