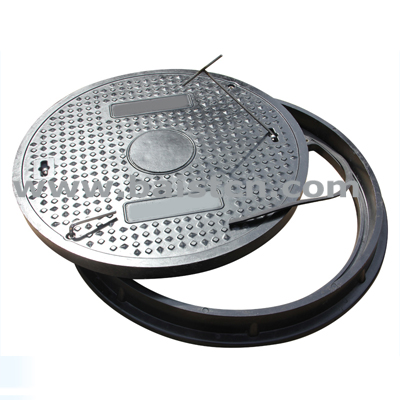 Long fiber glass materials without any rib on the manhole lid.
Product details of SMC composite manhole cover:
1.Tailor to various customers' needs, including customized plates, logo, panel designs and colors.
2.The logo and the pattern can be customized.
3.The sealing strip is waterproof and can reduce noise.
4.The handle hole is waterproof.
5.The patterns can nonskid.
Manufacture and export composite manhole cover, trench cover, water grate, telecom inspection cover and grating. Till now, our competitive products not only have good market in domestic, but also owned a large overseas market with a high reputation. Through long-term marketing promotion and widely use of our products, sell domestic and also exported to different countries.
Low noise:
manhole cover
and the frame fit well, it solve the problem of the vehicle by the noise.
Fall prevention: this manhole cover design for steel frame,bearing capacity is strong.
Prevent slippery: covering non-slip texture clear, increase the friction, prevent because of the rain, snow, ice covered pedestrian slip.
Material: high quality by SMC new material and improve the density of the product, make the product has strong compressive. Bending, impact resistant, heat resistant, cold resistant, Corrosion resistant, acid and alkali resistant, aging, not easy to deformation, etc.
Well sealed: it can be used hermetically, and effectively prevent those poisonous gases leaking out from cesspool.
No any jangle: There is neither jangle nor rebound when cars pass through.
This manhole cover keeps their excellent properties at high continuously temperatures 150℃.