characteristic:
1. The weight of composite manhole cover is only 1 / 3 of that of iron cover. The installation and operation of the cover are light and flexible.
2. Good self-locking, FRP round manhole cover and well seat unique constraint connection structure, to prevent the car after driving
The self-locking function of manhole cover jumping off the well seat.
3. The tensile strength of FRP is equivalent to that of Q235 steel, and the compressive strength is more than one time higher than that of c30x. The impact resistance, vibration, fatigue and fracture properties of FRP are better than those of steel and iron. The strength safety conditions of the manhole cover used as bearing structure are easier to meet than those of the iron manhole cover.
4. It can be used as well cover to avoid theft of steel manhole cover
The hidden danger of selling waste products can prevent the theft of manhole covers, causing traffic accidents of adults, cars falling into or stuck in wells, and reducing the number of accidents. The owner's economic loss and accident liability.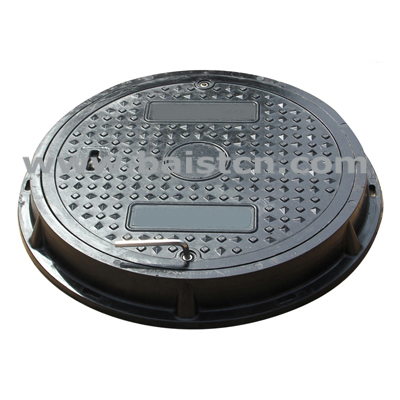 5. Corrosion resistant, FRP material is naturally corrosion-resistant. It can be used as well cover for acid, alkali, salt, sewage and other corrosive media environment. It has technical and economic competitive advantages.
CNPC and Sinopec supply tank well cover, FRP
manhole cover
, operation well cover and manhole well of gas station. This product is manufactured according to the atlas of new Sinopec and PetroChina gas station design specifications. The material is made of stainless steel, aluminum alloy and light steel by electrostatic spraying treatment. It is safe and reliable to use. This product has the characteristics of light weight, beautiful appearance, strong and durable, anti-theft, easy installation, and the unique hydraulic support rod makes it easy to open and close. The product has good sealing performance and anti-static function, which can effectively prevent oil and gas leakage and reduce the accident rate. Load bearing well cover of gas station