Composite manhole cover is the most ideal, more advanced, is other mold(such as rubber mold, plastic mold, iron manhole cover cover mold) in comparable.
When installing the composite manhole cover, there are several instruction:
Before installation, the foundation of manhole cover shall be neat and firm, and the inner diameter, length and width shall be determined according to the size of manhole cover.
When installing the composite manhole cover on the cement pavement, it should be noted that the masonry of the wellhead should be poured with concrete, and the concrete protection ring should be set up at the periphery for maintenance for about 10 days.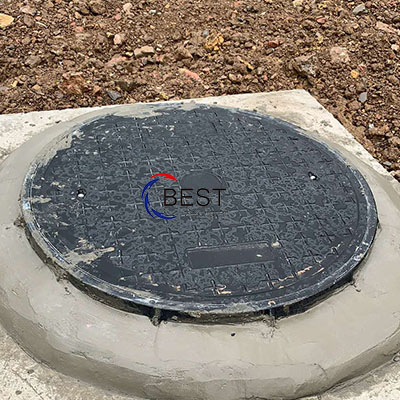 When installing composite manhole cover on asphalt pavement, attention should be paid to avoid direct rolling of manhole cover and well seat by construction machinery, so as to avoid damage.
In order to keep the manhole cover beautiful and clear handwriting and pattern, pay attention not to dirty the well cover when pouring asphalt and cement on the road surface.