The cast iron tree grating is easy to be stolen and gradually exits the market; the toughness and firmness of the tree grating plate made of resin material are determined by the product thickness. Most of the resin boards on the market are very thin products with high price and are fragile; the composite tree grating not only improve the toughness, firmness and durability of the cover plate, but also improve its corrosion resistance and impact resistance, greatly reducing the production cost of tree grating. Because it is not made of cast iron, not easy to lose, and can play a direct role in anti-theft. Therefore, the tree grating has not only significant economic benefits, but also good social benefits.
Performance of tree grating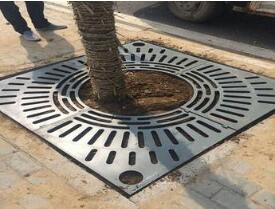 The
tree grating
has the characteristics of high strength, low price and beautiful appearance. Products can be colored at will, easy to install, maintain and mark. It is an ideal choice for garden department, plant greening, street beautification and landscape beautification.