Compound manhole cover is a common manhole cover. What are the factors related to the service life of manhole cover? One is the quality of manhole cover, the other is the installation mode of manhole cover.Neither of them can be sloppy. The quality of the manhole cover should be guaranteed by the manhole cover manufacturer. The installation method of the manhole cover is managed by the workers of the user. Next, I will talk about the basic installation methods and steps of the manhole cover.
1、 When installing the composite manhole cover, it is necessary to pay attention to maintain its beautiful appearance. Usually, there will be some patterns and handwriting on its surface. It is necessary to keep the integrity of the pattern cleaning and handwriting. If asphalt pavement is encountered, some measures should be taken, such as laying a thin sheet of iron on its surface Put a board on the top of it, so as to prevent the asphalt from affecting its surface.
2、 The brick masonry of manhole cover is also very important. It needs to be planned in various sizes according to the corresponding design, and for the concrete protection ring, it needs to be maintained in ten days, so as to reach the corresponding standard, which is also the special attention of users when using.
3、 The shaft cover should avoid the direct rolling of some large construction machinery, and it needs to be poured into one with the base after the completion of installation, which will also be very convenient for future opening.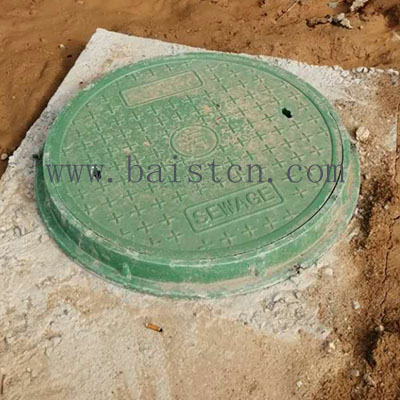 4、 In order to make the manhole cover more stable after installation, it is necessary to lay a good foundation before installation. The foundation should be neat, and it should be formulated according to the actual size of the manhole cover. The length and width of the foundation should meet the requirements.
5、 When installing the manhole cover on the cement ground, pay attention to whether the concrete used on the manhole cover is suitable, and add a protective ring around the well cover. After the completion of the fixed work, regular maintenance is required.
Since its establishment in 2004, the main products of Zibo bester energy saving material Co., Ltd. include resin manhole cover,
composite manhole cover
, heavy manhole cover of gas station, municipal manhole cover, sidewalk manhole cover, light manhole cover of green belt, etc. the production standards are strictly implemented in accordance with the national standards, not only having a certain position in the domestic market, but also gradually opening the international market. To serve the public with quality is our production philosophy, you can rest assured that we can rest assured.