We all know that the BMC manhole cover have steel bar. Today let us talk about the BMC manhole cover: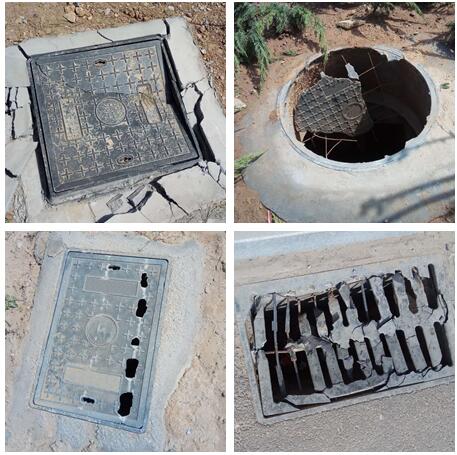 From this picture, we can see that the broken manhole lid and the steel bar. The welding point of steel bar is important for the manhole lid of load bearing capacity. The welding position of each cover also different. In order to enhance its load capacity, we use the rib.
Perfect welding technical and good toughness of stee bar, improve its quality and load bearing capacity.
zibo best energy-saving materials co., ltd. supply quality BMC manhole cover, trench cover, water grate and cable cover. Our products are strictly produced according to the BS EN124 and have obtained various kinds of certificates. Till now, our competitive products not only have good market in domestic, but also owned a large overseas market with a high reputation.
BMC manhole cover features:
Beautiful and practical, high-grade: According to customer needs, complex LOGO and a variety of colors on the same manhole surface can be customized to make the pattern delicate, bright and clear. According to customer requirements, we can make all kinds of imitation stone surfaces and colors the same as various stone pavements.
Long service life: through the use of high-performance resin, glass fiber and special production process formula, to ensure the running-in of the resin in glass fiber, greatly enhance the adhesion between the two, so that the material under the action of cyclic loading, not Internal damage occurs, which guarantees the service life of the manhole cover and the same superiority of other resin
BMC manhole covers
.