D400 sewage cover, main road. For better construction. Antiflaming water grate.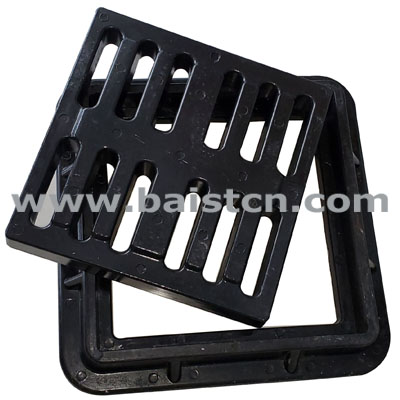 Better drainage:water leakage area is 83.3%, which is more than twice of cast iron.
Design of anti-theft:no later recycle value,anti-theft,safety and easy to open.
Good weather-ability: corrosion resistance; acid-alkali resistant.
High strength: load bearing capacity can reach 90tons.
Durable service life:More than 30 years service life without crack and color fading.
High load rating and strength
Similar hard property as cast iron, while have a overwhelming advantage on stretch recovery.
Beautiful and practical, high-grade: According to customer needs and a variety of colors on the same manhole surface can be customized to make the pattern delicate, bright and clear. According to customer requirements, we can make all kinds of imitation stone surfaces and colors the same as various stone pavements.