In recent years, with the government 's increased investment in infrastructure and the development of urbanization, the government has invested heavily in public facilities. It is estimated that the number of new manhole covers and annual replacements in the country is at least 10 million units per year.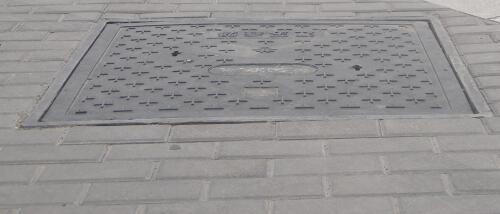 The demand is huge. With the new GB / T23858-2009 inspection manhole cover standard issued by the country in 2009. The new national standard raises the load requirements of manhole covers and is in line with the internationally accepted EN124 standard.
So what is the future development direction of the sewer cover?
I. Experts predict that composite manhole covers will develop rapidly in the next few years or even decades.
1) the technology of composite manhole covers is becoming more and more mature, and the strength of compression and load resistance is getting higher and higher. At least the anti-theft problem is basically solved from the day it is installed. In addition, the composite manhole cover can be brought with colorful colors when it is manufactured. Just as the car was originally only black, and Chevrolet produced yellow, blue and other colors of cars, the colorful manhole cover will definitely be favored by people in the future.
2) cast iron manhole covers will still occupy a small part of the manhole cover market. Why? Because the strength of nodular graphite and gray iron is generally considered to be high, and the composite products of many businesses are not up to standard. In order to reduce the cost, the production is inadequate, or the technical level is not enough, so that the product cannot meet the standard. Therefore, in areas where full composite manhole covers have not yet become widespread, manhole covers of many main engines will still use this material. As for anti-theft and anti-jump, anti-squeak and other problems, businesses must also continue to maintain market demand through gradual improvement of technology.
3) the reporter learned that art manhole covers are also one of the inevitable development directions in the future. When the art manhole covers in neighboring countries such as Japan and some developed countries in Europe and America were praised, the demand for domestic art manhole covers was also increasing, such as some high-end residential areas and villa areas. Some art manhole covers will undoubtedly add color to the venue.
4) the multi-functional resin sewer cover is a necessary development direction in the future.
cement manhole covers - steel fiber manhole covers - gray cast iron manhole covers - ductile iron manhole covers - resin composite manhole covers
especially high-strength SMC composite resin manhole covers, anti-theft, anti-jump, anti-squeak, anti-shift, Comprehensive manhole covers with multiple functions to prevent sinking will undoubtedly become more and more popular in the market.