Anti-theft: This product uses high-load (50KN-900KN) composite resin material, which is molded by high-temperature compression molding. It has no recycling value and is an active anti-theft product.
High load (50KN-900KN): This product has been tested by authoritative departments and fully meets the bearing capacity requirements of similar cast iron products.
Corrosion resistance and aging resistance: This product is resistant to acid and alkali corrosion and does not rust, especially suitable for places with acid and alkali dampness.
Safety: This product has strong flexibility.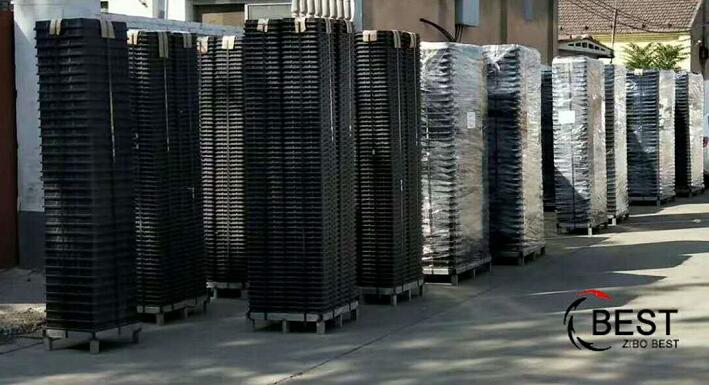 Convenient and beautiful: Because the weight of this product is only 1/2 of the cast iron manhole cover, it brings convenience to installation and maintenance. At the same time, it can be classified and colored according to industry sectors.
High precision: This product is formed by a die, with a small gap between the seat and the cover, and a close occlusion, which overcomes the problems of running, jumping and ringing of similar products.
This product is suitable for drainage facilities of various projects such as urban roads, parks, squares, vegetable farms, car wash yards, etc., and is classified and colored according to the requirements of individual urban project settings.
The composite manhole cover product uses unsaturated resin as the main material, supplemented by steel bars as the skeleton, and is reinforced with reinforced bars. It is a new type, pollution-free and environmentally friendly inspection manhole cover. All kinds of Shandong composite manhole covers, Shandong composite rainwater dumplings, Shandong composite water meter boxes, communication cover plates, power cover plates, trench cover plates and other products produced by our factory meet the relevant design standards stipulated by the state and meet the urban road technical specifications. Claim. All technical indicators are tested by the construction engineering quality supervision and inspection station and the municipal inspection center. At the same time, it meets the European manhole cover standard BSEN124, and has been exported to Europe, Africa, the Middle East and other countries in large quantities.
This product has no reuse value, no noise pollution, corrosion resistance, high temperature resistance, high cold resistance and other characteristics. The problem of theft of the manhole cover was completely solved, and the incident of hurting the black hole in the city was prevented. This product can be customized into different shapes such as square or round, and manhole covers for various purposes, such as communication, sewage, tap water, rainwater, electricity, etc. And can be personalized design, coloring according to customer needs. This product can not only replace the old-style cast iron manhole cover products, but also its unique non-reuse value, no impact noise, no rust, can be colored at will, etc., it is an active anti-theft product.