BMC manhole cover
common dimension: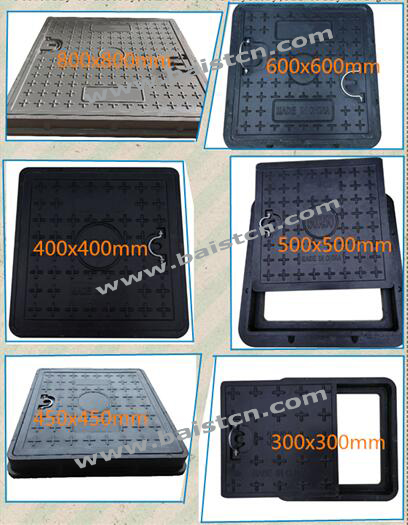 Dimension: 300x300mm, 400x400mm,500x500mm,600x600mm, 700x700mm, 800x800mm......
BMC (Bulk Molding Compound / group-like plastic)make the unsaturated resin as matrix material, with 30-50mm short fiber materials as the reinforcing material, with CaCO3 as filler, as prefabricated molding. BMC molding covers--- mold plastic with reinforced ,then under a certain temperature and pressure to be formed ) that covers are made of reinforcing material ,which is a short 30-50mm staple fiber composite material formed of continuous fiber strength of only 20-30%), the structure of the composite manhole cover with the ribs as flat bottom .All the materials are composite and environmental.
Our Burglarproof Artistic manhole covers (shorted for GRP manhole cover) are made from composite materials such as glass fiber, resin, quartz, corundum etc..
Applying wear-resistant and climate-resistant materials on the relief sculpture layer so that the products can be long-term used under different environment.
Applying continuous reinforced fiber on the structure layer to ensure the products having sufficient sustaining ability. While some of other composite material manhole covers.
Design:
Infusing the manhole covers with the art of relief sculpture, designing individually to meet clients demands with artistic effect, promoting the culture feeling of our composite material manhole cover, the material is FRP, shorted for Fiber Reinforced Plastic;
Factory: Strictly in accordance with the EN124 standard production.