SMC manhole cover, material for SMC composite material, high load-bearing, anti-theft, long life, widely welcomed. The rubber ring is placed in the inner ring groove of the inspection cover of the five prevention manhole cover, which enlarges the matching surface between the manhole cover and the well ring, making the inspection manhole cover firm and durable, and effectively preventing the "running, jumping and ringing" of the inspection manhole cover. A two-layer protective well made of glass fiber reinforced plastic (FRP) material is also provided 10 cm below the manhole cover to avoid accidents of pedestrians and vehicles falling into the well after the first layer of manhole cover is broken or lost. The anti-theft device of the five prevention inspection manhole cover uses the chain to connect the manhole cover and the well ring, which is not only convenient for the maintenance and repair of the sewer workers, but also has a better anti-theft effect. Compared with the traditional manhole cover, the five prevention manhole cover has made a breakthrough in appearance and structure, and has reached the level of domestic similar products. The five preventions in the five manhole covers are anti noise, anti jump, anti-theft, anti falling and anti displacement.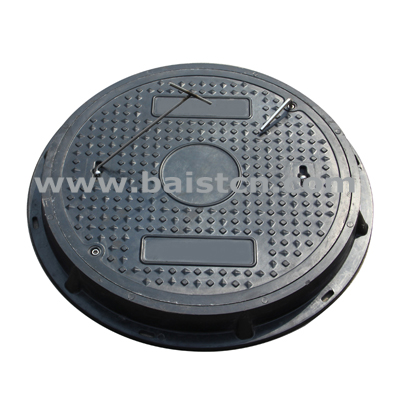 Excellent material quality: SMC new manhole cover is used. Non through hole lifting hole design: to prevent rainwater leakage, prevent odor from spreading, opening hole is not easy to be damaged. Specially designed slot and sealing ring: ensure the sealing of manhole cover, reduce the noise of passing vehicles, improve the driving comfort. Stainless steel locking device: prevent property loss in the well, prevent displacement and overturning of manhole cover, form potential safety hazards, prevent well water from flowing back and lead to urban waterlogging. The formation of urban black holes. Appearance: the surface pattern design of the manhole cover is exquisite. It can be personalized designed according to the user's requirements and made into various colors to beautify the urban environment.
SMC anti-theft manhole cover
improves the density of the product, so that the product has a strong compression. It has the characteristics of bending resistance, impact resistance, heat resistance, cold resistance, wear resistance, acid and alkali resistance, aging resistance and deformation resistance. We always adhere to the policy of "stressing unity, attaching importance to science and technology, creating high quality and keeping credibility".