Resin manhole covers and cast iron manhole covers are one of the most widely used two types of manhole covers. The advantages of cast iron manhole covers are high strength, especially the heavy-duty cast iron manhole covers are widely used in the main highways and urban trunk roads and second ring roads. The quick road and other applications of some manhole covers, and now the new five-proof manhole cover produced by Bast, can also play the characteristics of anti-theft, anti-jump, anti-aliasing, anti-sinking, anti-displacement, and is widely trusted by customers all over the country.
The composite
resin manhole cover
is made of unsaturated polyester resin and made of non-alkali glass fiber as reinforcing the material and refined by a special process. It can be used as a structural material for floors, platforms, ship decks, and building planks with corrosive environments. It has the characteristics of lightweight, high strength, corrosion resistance, non-magnetic insulation, bright color, and various styles. It can be used in acid and alkali corrosion, hot and humid rust areas, such as power generation, electroplating, marine operations, etc. Supporting anti-corrosion flat, sewage treatment, chemical, electroplating equipment supporting glass steel products, such as trench cover, overflow trough and so on.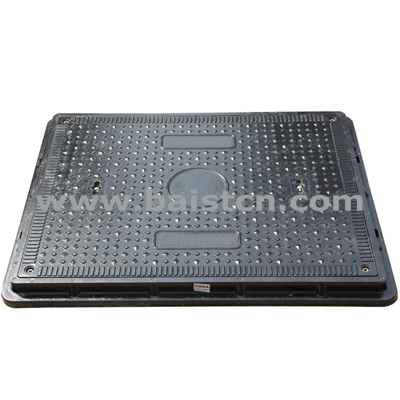 1. corrosion resistance
The difference in resin properties gives the FRP different corrosion resistance, and it can be used for a long time under the corrosive environment of gas and a liquid medium with different acid and alkali, salt and organic solvent.
2. Flame retardant
High-quality resin and flame retardant additives impart excellent flame retardant properties. Generally, the flame retardant product has an oxygen index of more than 26, a flame diffusion coefficient of less than 25, and a smoke density of less than 500.
3. lightweight and strong
The perfect combination of alkali-free glass fiber yarn and resin gives the product a unique lightweight and high strength. The specific gravity of the product is 1/4 of that of steel, which is suitable for various load-bearing structures in corrosive environments.
4. anti-aging
The product is made of high-quality matrix resin and anti-aging additive, which makes the product have long-lasting anti-aging properties, can maintain long-lasting gloss and continuous high strength and has a service life of more than 20 years.
5. designability
In addition to the flexible design performance of FRP, the color of the product can be customized according to the customer's requirements, and the external dimensions can also be cut and spliced ??into the size required by the customer.
6. safe non-slip
The high elastic modulus and different surface effects make the manhole cover anti-slip performance, slight elasticity reduces the fatigue of the staff, double plane, crescent surface, sand surface, diamond cover, different surfaces provide anti-slip performance for different applications.
7. electrical performance
Glass fiber and high-performance resin give superior electrical properties to the product. The piercing strength of the product can reach 10kv/mm. The metal tool has no electric spark when it is resistant. The product is non-magnetic and can be safely used in anti-electromagnetic and anti-explosion environments.
8. Economical
Because FRP does not require maintenance and has a long life, the overall benefit is better.
Resin composite manhole cover looks beautiful and easy to cut
The resin composite manhole cover is used for maintaining the soil looseness in the roots of the trees and absorbing nutrients such as water to protect the trees from soil erosion.
The resin composite manhole cover is mainly used for trees in public greening places such as street green belts and parks.
The resin composite manhole cover is made of resin and is light and easy to install. Parallel to the sidewalk to prevent pedestrian injuries.