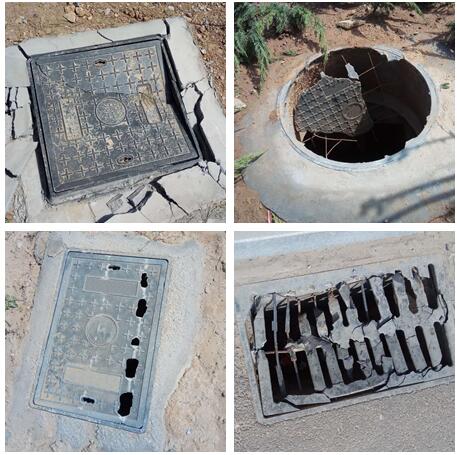 From the pic we can see that so many bad manhole cover on the road. Many people agree Composite Manhole Cover also have those problem. But there are extremely different.
Nowadays, in order to reduce the cost, many manhole cover manufacturers add sand into the manhole cover. Cheap sand material. Its water absorption rate is very high. Sand and resin are prone to gaps during the process of fusion(example: we add sand into food).Snowing time, it is easy to enter the water vapor and frozen. This makes the gap inside the manhole cover bigger and bigger, and when the vehicle is crushed back and forth, it is more likely to crack, and there will be one on the manhole cover. Holes, so these holes are not supposed to be there.
Zibo Best Energy-saving Materials Co., Ltd. was established in 2004, specializing in producing and supplying composite materials(SMC/BMC) manhole cover, drain grating ,tree-grating, gully grating. Strictly in accordance with BS EN124 and have obtained various kinds of certificates. Till now, our competitive products not only have good market in domestic, but also owned a large overseas market with a high reputation.