In recent years, with the development of urban construction, the government has increased the investment in infrastructure and invested a lot in public facilities, and the development of composite manhole covers has made rapid progress. From the traditional cast iron manhole covers to the current resin manhole covers, the style has gradually changed, while the load-bearing standard is also higher and higher, whether it is a light duty manhole cover for green belt or a heavy duty manhole cover for gas station can satisfy one by one.
What are the characteristics of our manhole cover?
1. The non through hole cover hole can lift the manhole cover more conveniently and quickly, and prevent the infiltration of rainwater and other sundries.
2. The stainless steel locking device can ensure the safety of facilities in the well and the safety of pedestrians and vehicles on the well.
3. The anti-skid pattern can be customized to ensure that pedestrians and vehicles can pass safely in rainy and snowy weather.
4. The special design of the clamping groove and damping rubber strip can ensure the good sealing performance in the well and reduce the passing noise.
5. The signboard can be customized to remind the safety of pedestrians and help users achieve publicity effect.
6. The color can be selected, and the customer can choose the color according to the environment of the manhole cover.
7. Strong anti-theft performance: the material has no recycling value and has the function of active anti-theft.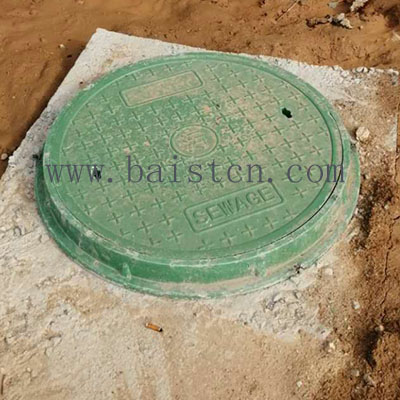 Fiberglass composite manhole cover
has the advantages of light weight, strong toughness, good fatigue resistance, damage safety, superior molding technology, low rolling noise, non-corrosion, acid and alkali resistance, beautiful appearance and so on. It has become an ideal substitute for cast iron manhole cover.