Composite materials have appeared as early as the 1970s. The research and development and use of composite materials are indispensable for automobile manufacturing materials, aerospace materials and building materials industry. At present, China's FRP and composite industry is facing a new period of great development, such as large-scale municipal construction in the process of urbanization, the use and development of new energy, the introduction of environmental protection policies, the development of the automobile industry, large-scale railway construction, large aircraft projects, etc. Driven by the huge market demand, the development of composite industry will have a very broad development space. As one of the development objects of composite materials, the composite well cover is very composite of modern economic development in terms of product price, service life and application characteristics.
As one of the most frequently used well covers in the field of building materials, what are the characteristics of composite well covers?
1. The material has no secondary use value and has the characteristics of natural anti-theft, which solves the problem that the cast iron manhole cover is always stolen.
2. High bearing capacity, strong toughness, good resilience, can bear 50-100 tons.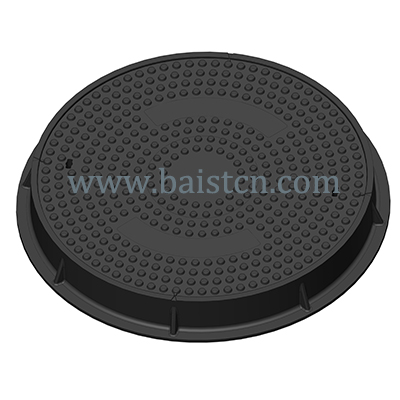 3. It has long service life, high molecular density, stable structure and strong resistance to damage.
4. The sealing performance is good. The sealing strip can be designed on the well cover or base to prevent rainwater leakage and reduce the passing noise.
5. The material is resistant to acid and alkali corrosion, high and low temperature, static electricity and good insulation.
6. It adopts special anti-skid panel pattern design and stainless steel anti-theft nut locking to ensure the safety of pedestrians and well facilities.
The R & D and popularization of composite well covers is to make up for the bulkiness of cement well covers and the deficiency of cast iron well covers, and to become a representative of new
sewage covers
.