Cover size: 650mm
Clear Opening: 600mm
Frame size: 780mm
Load Rating:D400
The advantages of composite Manhole Cover:
1. High load capacity D400 , CE EN124.
2. Fire prevention & low noise.
3. Security, No recycling value.
4. Anti-corrosion, insulation resistance.
5. Double-lids design for fall protection.
6. Non-slip surface design, no rust.
7. Durable, service life for more than 30 years.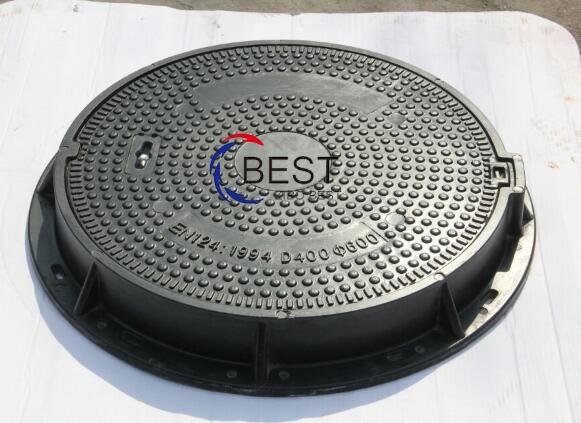 1. Low noise manhole cover and the frame fit well, it solve the problem of the vehicle by the noise.
2. Fall prevention: this manhole cover design for steel frame,bearing capacity is strong.
3. Prevent slippery: covering non-slip texture clear, increase the friction, prevent because of the rain, snow, ice covered pedestrian slip.
4. Material: high quality by SMC new material and improve the density of the product, make the product has strong compressive. Bending, impact resistant, heat resistant, cold resistant, Corrosion resistant, acid and alkali resistant, aging, not easy to deformation, etc.
5. Well sealed----it can be used hermetically, and effectively prevent those poisonous gases leaking out from cesspool.
6. No any jangle----There is neither jangle nor rebound when cars pass through.
7. This cover keeps their excellent properties at high continuously temperatures 150℃.
Zibo Best Energy-saving Materials Co., Ltd. was established in 2004, which is one of the largest composite manhole cover manufacturer in China, specializing in producing and supplying composite materials(SMC/BMC) manhole cover, rain-grating ,tree-grating, flower pot, fence and so on. Our products are strictly produced according to the BS EN124 and have obtained various kinds of certificates. Till now, our competitive products not only have good market in domestic, but also owned a large overseas market with a high reputation.
If you want to know more details, please follow our website and welcome to inquiry. whatsapp:+8613793332897 sales04@coverchina.net
Hot Tags: frp resin composite tench covers bangladesh, China, manufacturers,suppliers, company, high-quality