A15 Green belts, sidewalks, and other areas where motor vehicles are prohibited from entering.
B125 Sidewalks, non-motorized vehicles, car parking lot and underground parking lot.
C250 Residential area, back alleys, only light motor vehicles or small cars driving area, the road on both sides of the curb within 0.5m.
D400 Urban trunk roads, highways, highways and other areas.
E600 Freight stations, docks, airports and other areas.
F900 Airport runway and other areas.
High quality sewer cover follow BSEN124 Standard: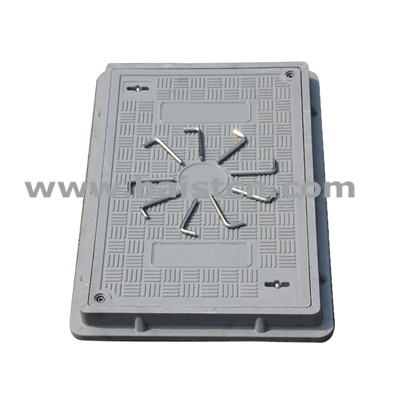 1. No recovery value and anti-theft: the plastic manhole cover use the no recycle value material and will solve the stolen problem thoroughly.
2. High load capacity: plastic manhole covers have a high load capacity exceeds the ductile iron strictly conforms to BS EN124 Standard.
3. Light weighted: manhole covers of composite material is 30% lighter than covers of iron, which allows easy transportation and maintenance.
4.Free-design: It can be designed according to users' demands, including size, color, pattern, specification.
5.Well sealed: It can be used effectively prevent those poisonous gases leaking out from cesspool.
6.Logo application available
If you want to know more details, please follow our website and welcome to inquuiry.
Hot Tags: frp resin composite tench covers bangladesh, China, manufacturers,suppliers, company, high-quality